Get the facts on Australian bushfires
The Australian bushfire emergency response phase is over.
Much needed rain has fallen in affected parts of the country, and along with the heroic efforts of firefighters, this has helped put the fires out. We are now well underway with recovery efforts.
Australia is susceptible to bushfires and each summer bushfires affect some parts of the country. This year's fires were more widespread and more damaging than other years, but only a part of the country was affected. Australia is resilient and is open for the unique and innovative business, travel, education and adventure only Australia has to offer.
Is it safe to visit Australia?
Yes. Australia was well-organised and well-resourced to respond to the recent bushfires and many parts of the country were unaffected. We continue to be a world-leading and safe tourism destination, whether in unaffected regions or those that will recover from these bushfires in the months and years ahead.
Many Australian destinations, including some of our most popular places—the Great Barrier Reef, Uluru, Sydney and Melbourne—were unaffected by the fires.
Travellers are encouraged to visit Australia.com for up to date advice on tourism destinations in Australia, and to speak with tourism operators and staff at local Visitor Information Centres on how best to enjoy their time in Australia.
What happened?
In total, more than 12.6 million hectares burned across Australia's south, east and west, with over 3,000 homes lost. To put this in perspective, Australia is over 760 million hectares (the same size as the continental US and 50 per cent larger than the European Union), with around 143 million hectares of forest, equivalent to 17 per cent of Australia's total land area. Visit https://www.australia.com/en/travel-alerts.html to see which destinations were impacted.
During the bushfire emergency, 33 people lost their lives, including volunteer firefighters.
The impact of the bushfires on Australia's biodiversity was significant. The Government has committed an initial $50 million to protect wildlife and support longer term protection and restoration efforts.
Each year there is a fire season during the Australian summer, with hot, dry weather making it easy for blazes to start and spread. This year's more severe fires were exacerbated by record-breaking temperatures combined with severe drought and strong winds, which made the fires and smoke spread more rapidly.
Natural causes were to blame in most instances, including from lightning strikes in drought-affected forests. Dry lightning was responsible for starting a number of fires in Victoria's East Gippsland region in late December, for example. Humans can also be to blame—with police reporting that people had been arrested and charged for deliberately starting bushfires.
How the Australian Government is responding

The Australian Government has established the National Bushfire Recovery Agency which is coordinating a national response to rebuild communities and livelihoods.
The agency's initial $2 billion recovery fund is ensuring the families, farmers and business owners hit by these unprecedented bushfires get the support they need as they recover.
Also, the broader Australian community is helping by taking holidays in affected areas and buying local produce.
We ask our friends overseas to do the same, to keep visiting our unique tourist attractions and support our communities who rely on visitors to bounce back.
While the bushfires have been severe Australia's fundamentals remain strong. Our political stability, strong legal and regulatory frameworks, highly skilled workforce and strong trade partnerships make it a safe and reliable place to invest.
We are rebuilding affected infrastructure using the most advanced technology and thinking.
Australian farmers are known for their ingenuity in the face of challenging conditions and they are already adapting to more regular, longer dry periods and fire seasons.
Trading partners can continue to have confidence in the quality and safety of Australian agriculture and food exports, which are underpinned by world class industry quality assurance and government certification arrangements.
On wine exports, the regions affected by the fires either do not have a strong export focus or make up a very minor contribution to Australia's total exports.
The Australian Government is committed to climate action
Australia is committed to taking action on climate change now.
We invest in and accept the science, including research to help us understand and prepare for these changes.
Australia is committed to the Paris Agreement and continues to take effective and practical action to address this global challenge.
Our Paris target to reduce emissions by 26 to 28 per cent on 2005 levels by 2030 is a responsible contribution to global climate action.
We will continue to evolve our climate policies to reduce emissions, increase resilience and adapt to climate impacts.
Australia's Wildlife and Biodiversity
The Australian bushfires had a devastating impact on the environment and our native plants and animals. A preliminary analysis by the Department of Agriculture, Water and the Environment provides an indication of the extent to which Australia's listed threatened and migratory species, both animals and plants, may have been impacted by the recent bushfires in southern and eastern Australia.
This preliminary analysis indicates 49 nationally listed threatened species have had more than 80 per cent of their known or likely range affected by the bushfires this season. There are an additional 65 species that may have had more than half of their range affected.
This does not mean all these plants and animals have been impacted in the same way. Some species are more vulnerable to fire than others. Some areas were more badly burnt than others.
We have begun the process of assessing impacts on the ground and allocating assistance.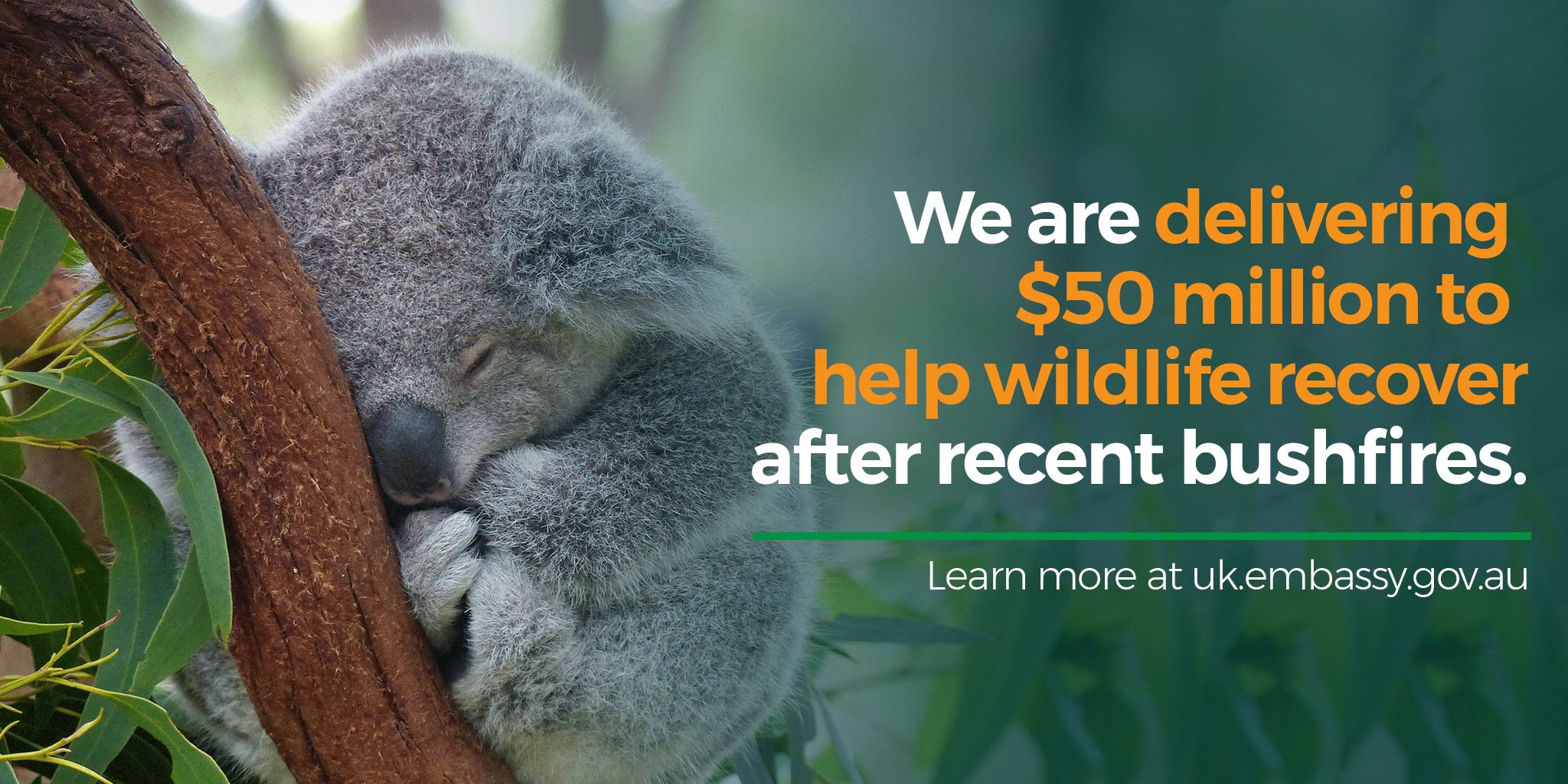 The Australian Government has announced an initial investment of $50 million to support immediate work to protect wildlife and longer-term protection and restoration efforts following the Australian bushfires.
$25 million is being used to establish an emergency intervention fund to assist the immediate survival of affected animals and plants.
The remaining $25 million is being made available to support wildlife rescue, zoos, and conservation groups with on the ground activities.
This includes:
Up to $7 million for Natural Resource Management groups in bushfire affected areas to carry out emergency interventions including control of feral predators, other pest animals and weeds, and habitat protection measures (such as fencing and nest boxes).
Up to $7.5 million to support on-ground wildlife rescue, protection and care services.
Up to $5 million for Greening Australia to increase supply of seed and native plants for revegetation.
$1 million each for Taronga Zoo, Zoos Victoria and Zoos South Australia for emergency wildlife support to establishment of insurance populations of at-risk native animal species. This is in addition to the $3 million supporting Queensland Koala Hospitals and the $3 million for Koala habitat restoration in northern NSW and south-east Queensland.
Up to $2.5 million for Conservation Volunteers Australia to mobilise volunteers through a national coordination point.
A panel of experts, led by Threatened Species Commissioner Dr Sally Box, is advising the Government on further critical interventions required and developing a strategy to build back up animal and plant populations, ensuring their resilience into the future.
How the UK has helped Australia
Australia is grateful for the support and solidarity the UK has shown us during ongoing bushfires.
In his Australia Day remarks, the High Commissioner for Australia to the United Kingdom paid tribute to the spirit in which the United Kingdom has stood with Australia; saying:
I offer my sincere thanks to everyone in the United Kingdom who has contacted me and my office offering messages of support, condolence and solidarity. Read more
Across the United Kingdom, there have been outpourings of support – big and small -- to support Australia and Australians. The UK Government has supported Australia in our recovery, sending a UK team in January to look at how best to assist with our recovery and how we might cooperate on managing future fire seasons.
Such help, readily offered between close friends, epitomises the enduring partnership between our two nations.
How you can help
The Australian Government is thankful for the continued offers of assistance from individuals, groups and domestic and global communities and organisations. We are grateful for how much everyone wants to help with the bushfire recovery effort. We have received a large number of offers including financial aid, firefighting support, veterinary support, defence personnel, aircraft and other specialist equipment.
Australia is well organised and well-resourced to respond, but the scale and heart-breaking impact of these bushfires is unprecedented. We welcome support from international partners in helping to spread the message that Australia remains open for business, with international visitors welcome.
The National Bushfire Recovery Agency have provided a directory of a large number of charities covering the breadth of the bushfire response. You can access that directory, here.